Contents
---
---
Connection of Descartes Pixi (Warehouse Management System)
By connecting Xentral it is possible to run the Warehouse Management System (WMS) Pixi with Xentral as ERP. This makes order processing possible with the help of a comprehensive WMS. At the same time, Xentral always keeps up-to-date warehouse figures and reliably passes these on to all connected stores and marketplaces. Xentral offers the following transmission paths with the existing interface: Xentral → Pixi
Transfer of orders
Transfer of items
Pixi → Xentral
Transfer of current warehouse numbers
Transfer of tracking numbers incl. serial numbers, MHDs and batches
For the complete connection of the incoming merchandise, the transfer of supplier orders to Pixi is also planned for a future version.
To connect to Pixi you need the transmissions module
Settings
API-Access
Initially, a new API account must be created, but this does not contain any access data itself and only serves to ensure correct assignment in the system.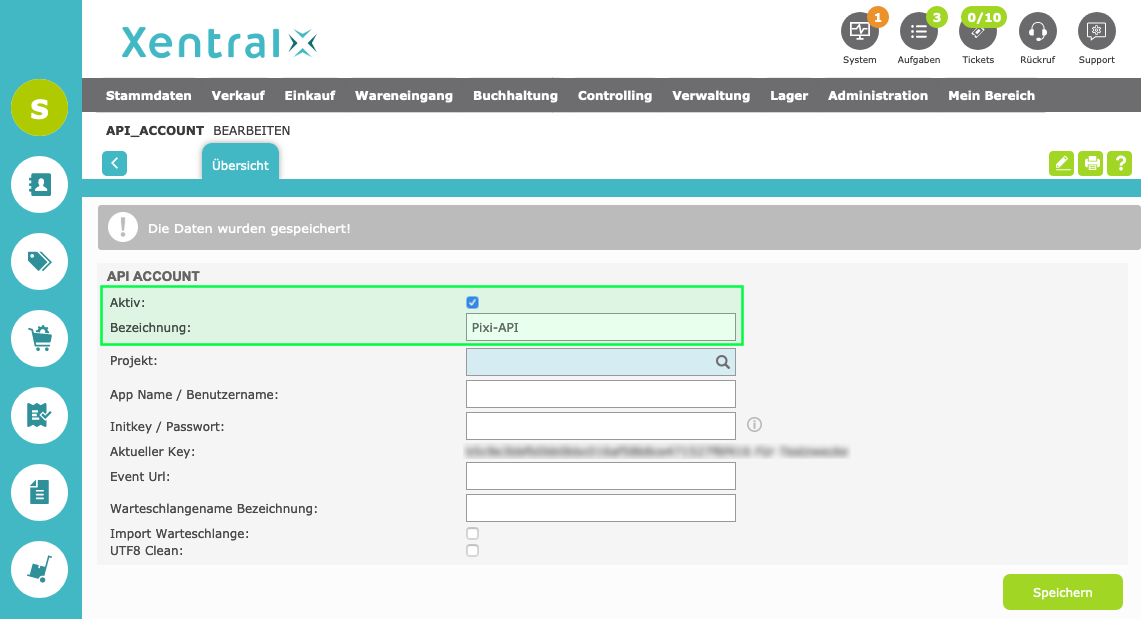 Module transmissions
The settings are made in the Transmissions module. All you need to do is create a new account and select the Pixi transfer type.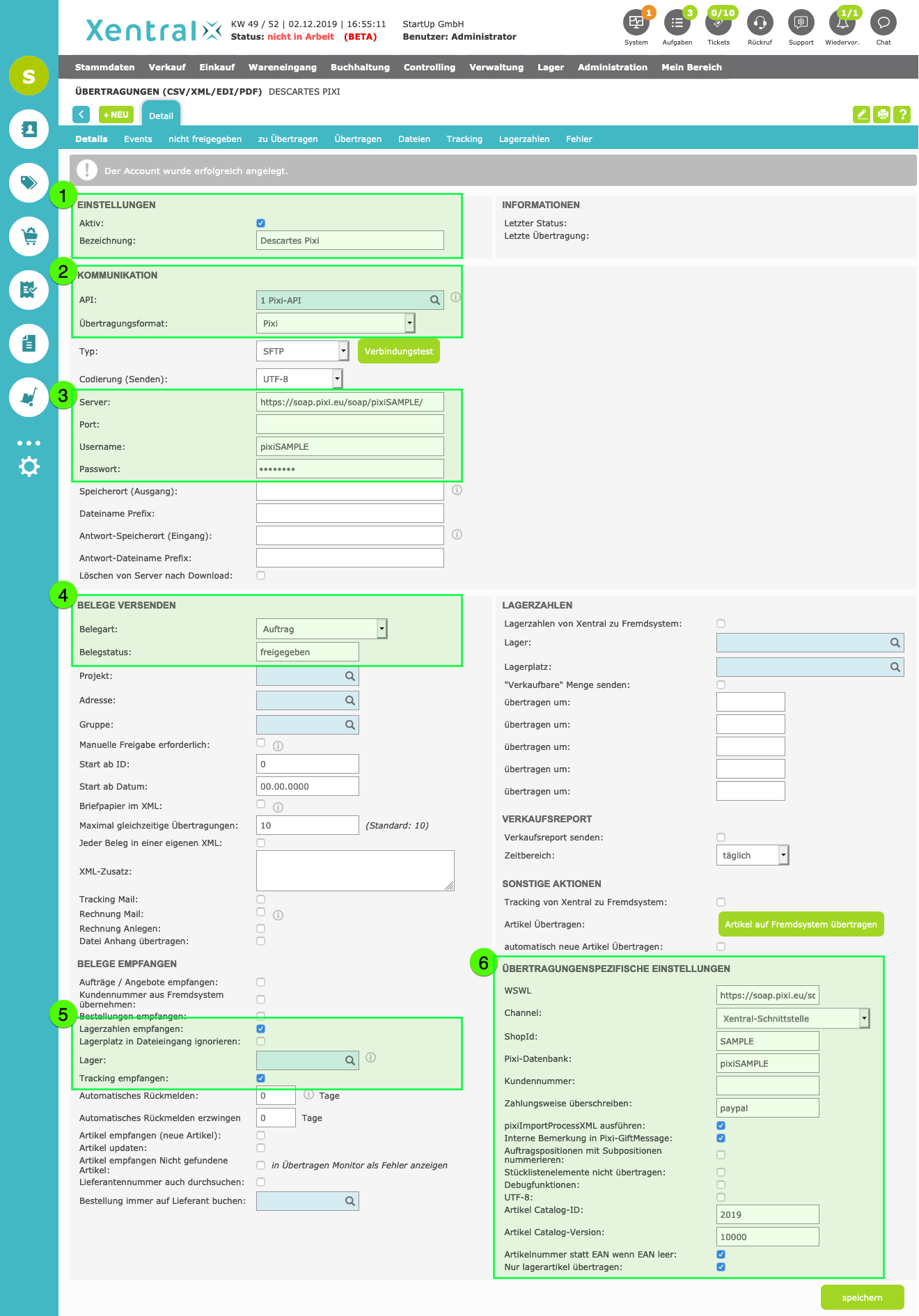 Below, the settings are explained using the blocks marked in the screenshot above.
1. Settings
Here you activate the access and can assign a readable name. API & transfer format Please select here- the previously created API access and
Pixi as the transmission format
2. Server and Access data
You will receive the access data for the API access in the Pixi backend. The server name, the user name (username) and the password have to be entered here.
3. Auftragsversand
If orders are to be transferred to Pixi, please select the options shown here:- Document type → Order
Document status → released
4. Transfer warehouse figures & tracking
In order to receive warehouse figures and current tracking information from Pixi and to be able to play them out to the connected channels via Xentral, the following settings are necessary:- Receive warehouse figures → set
Receive tracking → enabled
5. Settings Pixi-API
Pixi-specific settings are defined in this area and are briefly described below:- WSDL → Path to WDSL definition
Channel → Channel selection. The channels are automatically available for selection after the first successful connection to Pixi.
ShopId → Entry of the defined store ID
Pixi database → Pixi database (setting in the backend of Pixi).
Customer number → Please contact support
Overwrite payment method → Payment method is always overwritten with the value contained here.
Execute pixiImportProcessXML → Executes the data stored under pixiImportProcessXML.
Internal remark in pixi-GiftMessage → Internal remark
Number order items with sub-items → please ask our support
BOM elements not transferred → BOM elements are not transferred
Debug functions → Extended logging to identify faulty values in the transfer
UTF-8 → Language dependent
Item Catalog-ID → From Pixi Backend
Item Catalog-Version → From Pixi Backend
Item number rather than EAN if EAN is empty → EANs are transferred if item number is empty
Transfer stock items only → Only stock items are transferred
Our support team would be happy to assist you with the settings for the Pixi API. We recommend booking one of our support packages for interface connection. You can get more information from our Support.
Monitoring
Please check the monitor in the Transmissions module regularly. Possible error messages are displayed there.